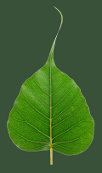 The greatest gift is the
gift of the teachings

Retreat Dharma Talks

Stillness Moving - The Play of Opposites

This was an online retreat.

2021-03-03 (5 days) Gaia House



2021-03-04 Morning Practice 1:12:32
Jaya Rudgard
Jaya reflects on how when we playfully notice the ambiguity of our inner and outer worlds, it can enable us to feel our aliveness with richer textures. This is further explored in a guided meditation.

2021-03-05 Dharma Talk 69:56
Jaya Rudgard
Reflections on how life is in constant motion, with everything arising and then falling again, and how we can find ourselves jamming things up with our grasping and aversion, rather than trusting that things can come back into balance without needing to control it all. Can we learn to flow with this natural waxing and waning of states of mind, pleasure and pain, loss and gain, and renounce the belief that there is a particular thing that will give us permanent happiness ?

2021-03-06 Morning Practice 1:12:33
Jaya Rudgard
An exploration of our understanding of and relationship to kindness, and how to de-couple the up-welling of kindness in the heart from any result which may come from it. Guided meditation - uisng the imagery of cradling ourselves as we would cradle a small vulnerable bird who needs our care.