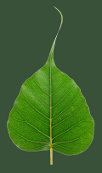 Please support Dharma Seed with a 2023 year-end gift.
Your donations allow us to offer these teachings online to all.



The greatest gift is the
gift of the teachings

Alexis Santos's Dharma Talks

Alexis Santos

Alexis has practiced Insight Meditation in India, Burma and the US since 2001. He has been a long-time student of Sayadaw U Tejaniya, including several years of training as a Buddhist Monk under his guidance. Alexis' teaching emphasizes knowing the mind through a natural and relaxed continuity. He brings a practical, intuitive and compassionate approach to the development of wisdom and qualities of the heart.