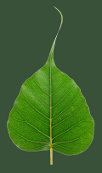 The greatest gift is the
gift of the teachings

Dharma Teachers

Larry Rosenberg

The method I use most in teaching is anapanasati or mindfulness with breathing. Breath awareness supports us while we investigate the entire mind-body process. It helps calm the mind and gives us a graceful entry into a state of choiceless awareness--a place without agendas, where we are not for or against whatever turns up in the moment.




Larry Yang

Larry Yang, a longtime meditator, trained as a psychotherapist, has taught meditation since 1999 and is a core teacher at East Bay Meditation Center in Oakland, CA. He has practiced in Southeast Asia and was a Buddhist monk in Thailand.



Leela Sarti

Leela Sarti has been a student of the Buddha's teachings and practices since she was 16 years old. She lives with her family in Sweden and in addition to teaching Insight Meditation retreats internationally works individually with students in her psychotherapy practice in Stockholm. She is a long term student of the Diamond Approach and part of a teacher training program in that tradition.



Leigh Brasington

Leigh Brasington studied the jhanas with the late Ven. Ayya Khema, who authorized him to teach retreats on the jhanas. He was also empowered to teach by Jack Kornfield. He teaches numerous jhana retreats throughout the year, at venues that include Cloud Mountain, Barre Center for Buddhist Studies, Gaia House, Vallecitos, and Southern Dharma.



Lila Kate Wheeler

Kate Lila Wheeler began teaching meditation in the mid-1980s and continues to practice with teachers in Theravada and Tibetan Buddhist lineages. Writing is an important part of her life; she has recently completed a second novel.



Madeline Klyne

Madeline has loved the Dharma since 1986. She is Co-founder and a Teacher of South Shore Insight. Madeline teaches at Cambridge Insight Meditation Center and at Insight Meditation Society. Madeline teaches retreats for LGBTQ communities at Spirit Rock Meditation Center and Garrison Institute. She also worked at UMASS Medical Center for Mindfulness, Healthcare and Society teaching Mindfulness-Based Stress Reduction in MA prisons.